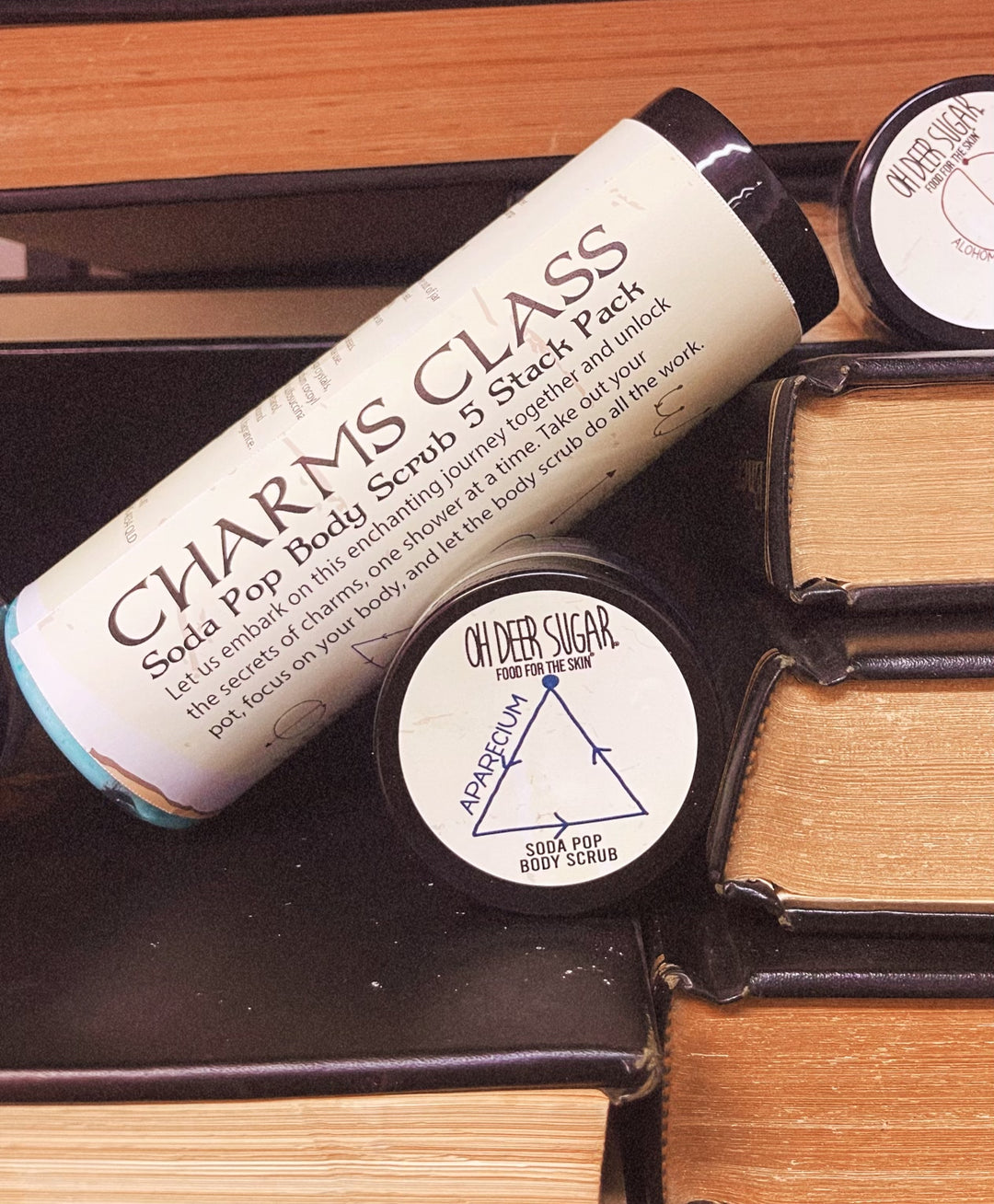 charms class SODA POP 5 STACK PACK 50ml ea
Regular price
$40.00
/
Tax included.
Shipping
calculated at checkout.
---
INTRO

SCENTS

INGREDIENTS 

THE IMPORTANT BITS

HOW TO USE
Let us embark on this enchanting journey together and unlock the secrets of charms, one shower at a time. Take out your pot, focus on your body, and let the body scrub do all the work.
🕺 Tarantallegra
The sweet notes of candied mint leaves transport you to the magical gardens of Hogwarts, while the zesty lime and sweet basil bring memories of potion-making in the dungeons. The juicy mandarin adds a touch of depth, completing the spell's fragrance.
✨Lumos
The zesty lemon and creamy vanilla light up memories of the comforting treats enjoyed over the school breaks at the Weasley's, with passionfruit and refreshing honeydew ice cream to follow.
✍️ Aparecium
As you breathe in, the sweet and crisp notes of pink apple transport you to the magical orchards of the wizarding world, where the fruits glisten. The tropical undertones of guava add a touch of exotic allure, evoking memories of distant adventures and hidden treasures.
🏊🏻‍♂️ Ascendio
The vibrant notes of bursting watermelon take you back to the bustling streets of Hogsmeade, where the fruity essence fills the air during warm summer days. The ethereal scent of violets intertwines, reminding you of the enchanting presence of the Hogwarts gardens, where these delicate flowers bloom under the watchful eye of Professor Sprout.
🔓Alohomora
The crisp and delightful scent of clean cotton lingers, reminding you of the homey atmosphere of the Gryffindor common room, where students gather to relax and study. The subtle hint of sea salt adds a touch of tranquility, reminiscent of the calming shores of the Black Lake.
Australian sugar crystals, glycerine, aqua, sorbitol, sodium cocoyl isethionate, disodium lauryl sulfosuccinate, sodium chloride, phenoxyethanol, tetrasodium EDTA, sweet almond oil, fractionated coconut oil, fragrance, CI 77266, CI 74260, CI 51519, CI 42090, CI 15985, CI 45410, CI 16035, CI 19140, vitamin e oil. 
HOW TO STORE Store with lid on. Keep water out of jar. Best used within 6 months of purchase. Once opened use within 4 months.
CAN I EAT THIS? No, do not eat - we are Food For The Skin. External use only. Avoid eyes, lips and sensitive areas. Do not use on broken or irritated skin. If reaction occurs, discontinue use.
CONTAINS NUTS
Scoop out a small amount, gently exfoliate on wet skin, rinse off and pat dry.